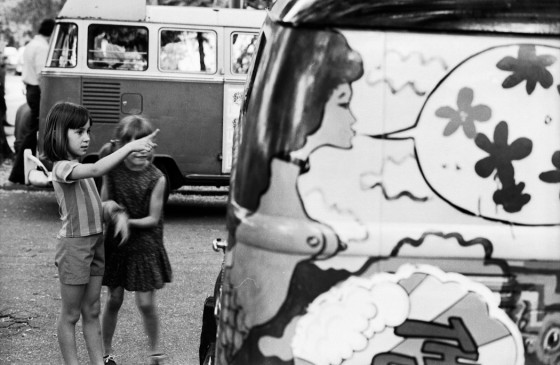 Girls meet the hippie van, Piedmont Park 1971 ©Boyd Lewis
Our friend Boyd Lewis, whom you might remember from a Mostly ITP interview last year, is holding another photo show in June. Here are the relevant details:
"hippies in Atlanta! however did they get in?"

Just when the Counterculture was dying out on the east and west coasts of the nation, it exploded like a leafy ocean of out-of-control kudzu in Atlanta. Head shops, communes, tokin' circles in Piedmont Park, free concerts, the last of the nation's great outdoor pop festivals, antiwar protests and the advent of a totally new way of life got off the Magic Bus and set up on The Strip.

The photos by Boyd Lewis are from his time reporting for Atlanta's black weekly newspapers and writing a column ("Political Periscope") for the legendary underground weekly The Great Speckled Bird between 1969 and 1975.

Relive those thrilling days of yesteryear in these photos, when the Counterculture blazed the trail we still follow today: cherishing the environment, pursuing justice for gender, race and sexual orientation, advocating peace, questing for enlightenment and yes, getting a little loopy at times. Conformist, whitebread Amerika was never the same.

Where?
The Mason Murer Fine Art Gallery 199 Armour Dr. 30324
404.879.1500

When?
Opening reception Friday, June 20, 2008 at 7 p.m.
Continuing through July 12.

For more information, contact Boyd Lewis 626.398.8889 or boyd.lewis@charter.net
Amber and I have a video episode of Mostly ITP we plan to put up (hopefully) tomorrow. Other than that, it will probably be a pretty light week. We've been very fortunate to have a new episode of one podcast or another posted nearly every day for the past two weeks or so, save for the holiday weekend. Thanks to everyone who contributes!
Generally, I'm setting a goal of having something new up every weekday, whether it be an episode of our podcast, an episode of someone else's podcast, or a blog post.