So you bought a shiny new iPhone 3G or upgraded your iPhone to the 2.0 firmware (raises hand) and you're wondering which applications you should install first. For podcasters, a voice recorder is a logical choice.
Of course, like every other category of software in the iTunes Application Store, the number of options is simultaneously overwhelming and underwhelming (I don't need four separate flashlight apps that make my screen turn white, thanks much).
I've picked four choices of voice recorders that might be useful to a podcaster for conducting interviews, installed them, made some recordings with them, and taken down some impressions. There are other apps out there which record voice (like Jott and VoiceRecord for example), but which are clearly not designed with making lengthy recordings in mind. Those are not included here.
Transferring recordings to your computer
None of this recording software has a built-in way to transfer audio from your iPhone to your computer. Patrick O'Keefe, developer of Voice Record, explained why on his web site:
I have gotten many emails asking me if there is a way to transfer the recordings from the phone to a computer. Unfortunately, Apple has not allowed us developers to make email attachments or perform app syncing with iTunes, so I am unable to offer that feature. If Apple changes their restrictions in the future, I will certainly update the software with this ability.
To get around Apple's inane policy, I was able to transport audio from iPhone to my Mac using a male-to-male 1/8 inch cable which looks like this: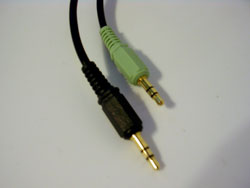 My Mac's microphone port didn't seem to be able to tell the difference between a headphone signal and a line in/microphone signal. Recordings imported through the built-in port were unusably quiet. So to get decent volume I had to run the 1/8 inch cable from my iPhone through my M-Audio MobilePre USB audio interface.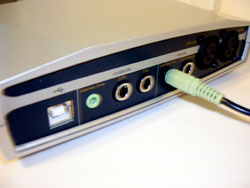 Sample recordings
I've attached sample audio taken with each piece of software. In each case, I pointed the microphone (on the bottom of the iPhone) toward me and held it about six inches away. I didn't run any compression, signal gain or otherwise mess with the recordings other than to crop them.

QuickVoice Recorder
Sample audio: quickvoice-recorder-sample.mp3
Seller: nFinity Inc. | www.nfinityinc.com/quickvoiceip.html
Price: $9.99
Positive: Nice simple interface, shows file sizes and times. Also, at the time I ordered this, they offered the desktop version of QuickVoice Recorder bundled for free with a purchase of the iPhone version.
Negative: Sticker shock! The most expensive of all the apps.
Verdict: Keep an eye on this one. If they dropped the price to $4.99, it would be a very solid player. As it is, the $0.99 cent programs have identical functionality for $9 less.
[UPDATE 5:24 p.m.]: Mike Corcoran, president of nFinity Inc., emailed to let me know that plans are in the works for voice email and for a workaround for Apple's file transfer lockdown. If those features were included at that price, QuickVoice would be a bargain. Best of luck to them on that.

Recorder
Sample audio: recorder-sample.mp3
Seller: Retronyms | www.recordertheapp.com
Price: $0.99
Positive: Cheap, clean interface, record with one click from the home screen.
Negative: Cannot rename files.
Verdict: This software is a fine barebones voice recorder if you don't care about renaming or organizing your files.

Speakeasy Voice Recorder
Sample audio: speakeasy-sample.mp3
Seller: Zarboo Software | www.zarboo.com
Price: $4.99
Positive: Great user interface, categories for recordings, one-step recording from home screen.
Negative: Playback through iPhone's built-in speaker is so quiet as to be useless. Works fine through the earbuds though. Hopefully this will be fixed in a future release.
Seems to apply a little filtering to the recordings. Filtering seems to smooth out recordings, but also to make them slightly duller. YMMV.
Verdict: Good recorder with a great interface. Just be aware that the recordings appear to have some filtering applied to them.

Voice Record
Sample audio: voicerecord-sample.mp3
Seller: Patrick O'Keefe | www.patokeefe.com
Price: $0.99
Positive: Cheap, works.
Negative: Two steps to start a recording, arrow in the user interface is useless. Other parts of the UI seem to take one too many steps.
Verdict: Pretty good no-frills recording software. A couple of UI quirks, but hey, it's 99 cents.
Final verdict
Your iPhone isn't going to replace a serious portable audio recorder like a Zoom H4, but it might come in handy if unexpected interview opportunities arise when you're not carrying your primary recorder.
Any of this software should be fine for that purpose. Regardless of your choice, you will have to jump through hoops to get the audio off your iPhone and onto your computer because of Apple's policies.
However, if renaming your files is important to you, you should avoid Recorder (at least until a future release where that will hopefully be fixed). And if paying $9.99 for software that does the same thing as $0.99 software doesn't sound appealing to you, then avoid QuickVoice Recorder. From there, decide if Speakeasy's pretty interface and categorization features are worth an extra $4 to you over the $0.99 Voice Record, with its UI quirks.
4 comments