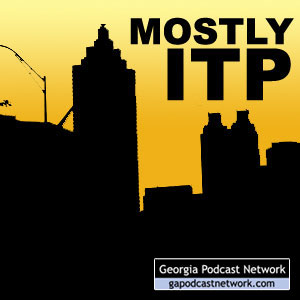 Amber and Rusty podcast about whatever strikes their fancy, which generally are things and issues inside Atlanta's perimeter.
Hosts: Amber Rhea, Rusty Tanton
Channel: Society & Culture » Personal Journals
May contain content only suitable for adults
Download
Show notes
We've just returned from Balticon; in this talkie, we discuss our experience there (and a few other topics).
Some more detailed notes:
Another voicemail from Nobilis. He is podcast voicemail Jesus.
Answers to questions sent via Twitter.
Thoughts on the "Don't Be That Guy" session at Balticon - the good, the bad, the ugly, the poorly planned, the psychosomatic reaction inducing.
Here are a few links about Nice Guys™:
We offer a few suggestions for next year's Balticon, including an idea for a panel.
Rusty's review of Magical Clothes.
We're going on a road trip to Columbus, GA next weekend. What should we do there?
Some Balticon photos:
If you were at Balticon (or even if you weren't!) please share your thoughts in the comments, or call 678-389-9441 to leave us a voicemail.