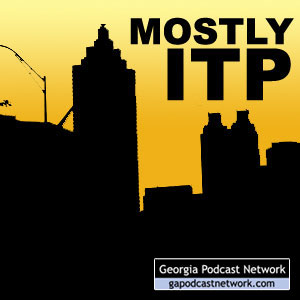 Amber and Rusty podcast about whatever strikes their fancy, which generally are things and issues inside Atlanta's perimeter.
Hosts: Amber Rhea, Rusty Tanton
Channel: Society & Culture » Personal Journals
May contain content only suitable for adults
Download
Show notes
[The title of this episode reveals my affinity for the Oxford serial comma.]
In this live talkie, recorded Sunday, October 26, we cover many topics, including:
More voicemails from Jen and Tony. Always entertaining - keep 'em coming! And that goes for the rest of you, too. Call in!

Tony on hold with Sprint
Tony calls in from the UGA game (part 1 and 2)
Jen scolds Tony for drinking all the boxed wine

Rusty had wisdom tooth surgery recently and survived.
We went to the Waffle House Museum and want to go back and do a video tour.
Who should we interview?
We ramble a bit about the value of social media and what it means to be "professional." (Shades of my BlogOrlando session.) Here's my post with the quote I was referencing; the original post I quoted is gone.
There's an election coming up. We endorse Obama, and Rusty describes an anti-Jim Martin mailer he received. It was put out by Americans for Job Security. Images here and here.
I had a photo shoot for my birthday and was Empowered™ by it. Here's the Flickr group for the location where it was done.
Sleep fetishes: what's the deal?
We love voicemail! Call us at 678.389.9441. Add Rusty as a Twitter friend here, and me here. E-mail us at info@gapodcastnetwork.com.