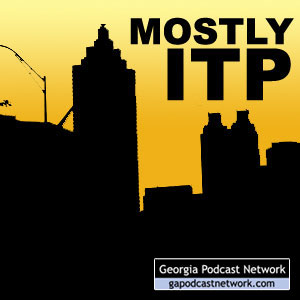 Amber and Rusty podcast about whatever strikes their fancy, which generally are things and issues inside Atlanta's perimeter.
Hosts: Amber Rhea, Rusty Tanton
Channel: Society & Culture » Personal Journals
May contain content only suitable for adults
Show notes
This is another end-of-year podcast, wherein we:
Play and respond to four voicemails from Jen
Discuss and reflect upon various events from the past year, including but not limited to: Sex 2.0, Balticon, the Georgia Podcast Network redesign, me killing my old blog, and the two video episodes we made
Name our favorite episodes of Mostly ITP from the past year
Talk about The Future
We love voicemail! Call us at 678.389.9441. Add Amber as a Twitter friend here, and me here. E-mail us at info@gapodcastnetwork.com.