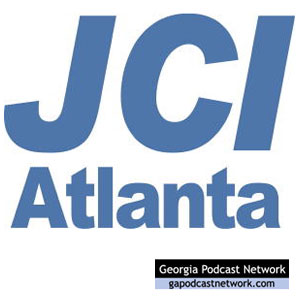 Junior Chamber International Atlanta is an organization of young professionals with the purpose of training the young leaders of tomorrow. This podcast features speeches from many of Atlanta's top executives and entrepreneurs.
Hosts: jciatlanta
Channel: Business
Show notes
Click Here for more info on Scott Greenlee and Junior Chamber International
JCI Atlanta was proud to have 2007 World President, Scott Greenlee in town on April 1st and 2nd. We held a nice reception for him on Sunday night with the Board of Directors, and 25+ active members from Atlanta. Monday morning started with the Podcast Interview heard here, and then it was on to meet with top level executives from the Georgia Entrepreneurs Society , Metro Atlanta Chamber of Commerce, and the Mayor's office. The day ended with a great round of golf at one of Atlanta's many fine golf courses, and then dinner at Fogo de Chåo. Scott then made his way to Augusta, GA the next day to attend a practice round at the prestigious Master's Golf Tournament.
We look forward to seeing Scott again in July, as he plans to attend Met Net 2007 in Atlanta, GA on July 27-29. Click Here for more info, or to get registered for Met Net 2007!
Bio:
Scott Greenlee, nominated by JCI USA, was elected JCI (Junior Chamber International) World President at the 61st JCI World Congress held in Seoul, Korea, in November 2006.

Born on November 17, 1967, in Grand Rapids, Michigan, USA, Greenlee works as a self-employed businessman and political consultant. He resides in Grand Rapids, Michigan, USA, with his wife Gina.

After joining JCI Grand Rapids in 1991, Greenlee became active in different roles and was elected JCI Grand Rapids Local President in 1996, JCI Michigan State President in 2001, and JCI USA National Vice President in 2002.

At the international level, in 2003, as JCI Vice President, Greenlee was assigned to Denmark, Estonia, Finland, Iceland, Latvia, Lithuania, Norway and Sweden. In 2005, he served as JCI General Legal Counsel. In 2006, as JCI Executive Vice President, Greenlee was assigned to Area B (Asia-Pacific) and chaired the Area B Conference (JCI ASPAC) in Takamatsu, Japan.

Greenlee has attended eight JCI Area Conferences and five JCI World Congresses. He has been honored as JCI Senator (Honorary Life Member) No. 60646.

During his term of office as JCI President, Greenlee will visit many countries where JCI is established. He will meet JCI members, heads of state and community leaders worldwide, and preside over the 62nd JCI World Congress, to be held in Antalya, Turkey, November 5-10, 2007.
Interview: Scott Greenlee
Interview By: Michael DiLonardo and Trevor McCandless
Produced by: Michael T. Malkasian