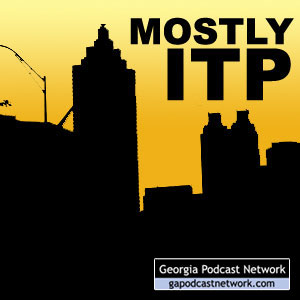 Amber and Rusty podcast about whatever strikes their fancy, which generally are things and issues inside Atlanta's perimeter.
Hosts: Amber Rhea, Rusty Tanton
Channel: Society & Culture » Personal Journals
May contain content only suitable for adults
Show notes
In this episode, Markos Moulitsas Zúniga of Daily Kos — the most widely read political blog in the world — descended on Manuel's Tavern in Atlanta's Virginia Highland district. Manuel's, for you out-of-towners, has been the premier watering hole for Democratic politicos since 1956. It was founded by Manuel Maloof, the godfather of Georgia Democratic politics.
Markos was there to talk about the new book he co-authored with Jerome Armstrong titled Crashing the Gate, and to engage in a question and answer session with the audience about the state of progressive politics. The event was co-sponsored by Drinking Liberally and Georgia for Democracy.
Here's a photo of Kos in action:
Length: 29:29 minutes
File size: 27 MB