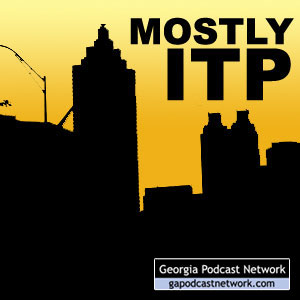 Amber and Rusty podcast about whatever strikes their fancy, which generally are things and issues inside Atlanta's perimeter.
Hosts: Amber Rhea, Rusty Tanton
Channel: Society & Culture » Personal Journals
May contain content only suitable for adults
Download
Show notes
In this January 24 interview, I talk with Atlanta artist Thomas Burns. He makes giclee prints of Atlanta landmarks - from Oakland Cemetery to the Clermont Lounge. You can check out his work at Atlanta Vintage Travel and AtlantaPhotos.com (as well as some actual brick-and-mortar shops around town). My slight pre-occupation with the Big Chicken is also revealed in this podcast.
Meta note: Something weird was going on with the sound in this one, and I have no idea why. My voice in particular has certain random spikes and pops, which I've tried to make a little more bearable on your ears. So, apologies in advance.
Length: 14:30 minutes
File size: 13.3 MB