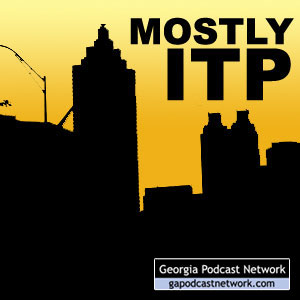 Amber and Rusty podcast about whatever strikes their fancy, which generally are things and issues inside Atlanta's perimeter.
Hosts: Amber Rhea, Rusty Tanton
Channel: Society & Culture » Personal Journals
May contain content only suitable for adults
Show notes
For the second podcast recorded the night of my blogiversary party at Manuel's, we passed the recorder around the table so everyone could talk for a few minutes about their blog, the benefits of blogging, and all that jazz. You'll hear from:
As a bonus, Mel and GriftDrift interject some bite-sized political commentary.
Also included is Mostly ITP's new favorite song: "First of May" by Jonathan Coulton. (Yes, it's kosher for us to play the whole song; all his stuff is licensed under Creative Commons.) If only we had known about this song on the actual first of May! Thanks to Steve Eley and the rest of the hot tub cast crew for letting me know about the new king of geek rock.
Length: 20:58 minutes
File size: 19.2 MB