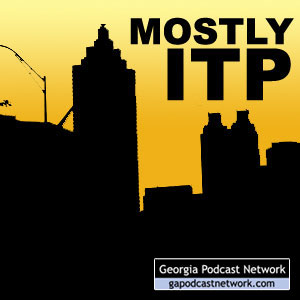 Amber and Rusty podcast about whatever strikes their fancy, which generally are things and issues inside Atlanta's perimeter.
Hosts: Amber Rhea, Rusty Tanton
Channel: Society & Culture » Personal Journals
May contain content only suitable for adults
Download
Show notes
Rusty and I recorded this first-day-of-summer talkie on the roof of our apartment building, overlooking the city. Topics include:
We might have to stop doing improvs in the Mostly ITP introductions, because they're getting too hard to think of. Unless, of course, our listeners want to help us think of new ones.
Almost a year after taking up pole dancing, I'm getting my own stripper pole! It will be installed in our apartment very soon.
Masonry tips from Rusty. He's been quite the handyman lately and shares some things he's learned.
In July, we'll be going to Chicago for BlogHer and general vacationing.
I need a new computer. I'm trying to resist the inevitable, but it is, indeed, inevitable.
Twitter question from Laura
We're going to a sex club tonight (June 22). We mention it, and promise a follow-up podcast.
Length: 17:59 minutes
File size: 16.5 MB
We love voicemail! Call us at 678.389.9441. Add me as a Twitter friend here, and Rusty here. E-mail us at info@gapodcastnetwork.com.