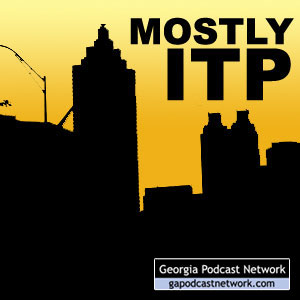 Amber and Rusty podcast about whatever strikes their fancy, which generally are things and issues inside Atlanta's perimeter.
Hosts: Amber Rhea, Rusty Tanton
Channel: Society & Culture » Personal Journals
May contain content only suitable for adults
Show notes
Podcasting once again from OTP, Rusty and I interview Erick Montgomery, executive director of Historic Augusta, and Julia Jackson, programs and marketing director of the same. This is one of our longer podcasts, and it could've kept on going, because it's all so interesting to me. I grew up in Augusta and have always been fascinated with the bizarre dynamics there surrounding historic preservation, urban development, and the omnipresent elephant in the living room: race.
After the interview, Erick gave us a tour of the Woodrow Wilson Boyhood Home. For those who don't know, I'm a relative of Woodrow Wilson; now, let's see if I can get this right. My great-great-great-grandfather was a brother of Woodrow Wilson's mother. So that makes him... some kind of cousin? Ah, I was never good with this terminology.
Anyway, Historic Augusta is doing some really great things. Check them out, and if you ever go to Augusta, try to visit some of the interesting, unique places they've helped save.
Length: 56:18 minutes
File size: 38.7 MB