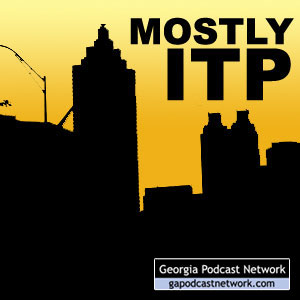 Amber and Rusty podcast about whatever strikes their fancy, which generally are things and issues inside Atlanta's perimeter.
Hosts: Amber Rhea, Rusty Tanton
Channel: Society & Culture » Personal Journals
May contain content only suitable for adults
Download
Show notes
It's been a while since we've done a talkie! In this episode, Rusty and I cover the following topics:
Our trip to Milledgeville, including our visit to the superlatively haunted Central State Hospital. Photos here.
Details about our still unresolved customer service nightmare with Platinum Stages. I also blogged about it. (Note: as of today, Platinum Stages has a newly revamped web site. Guess they can put their money into that, but not into making sure they don't sell unsafe products to their customers.)
We promise to do a podcast reviewing two more Atlanta swingers clubs that have come to our attention: Little Wings and Club 2Risque (reopening Oct. 26).
Rusty did a presentation about podcasting with Drupal for the Drupal Atlanta user group. You can see it here.
We answer a pressing question sent by Jen via Twitter.
Upcoming events: BarCamp Atlanta, organized by Jeff Haynie (Oct. 12-13); Sex, Wine and Chocolate fundraiser for Georgians for Choice and Generation Five (Oct. 18).
Length: 24:35 minutes
File size: 16.9 MB
We love voicemail! Call us at 678.389.9441. Add me as a Twitter friend here, and Rusty here. E-mail us at info@gapodcastnetwork.com.