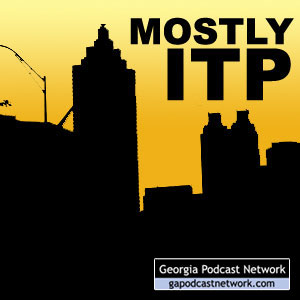 Amber and Rusty podcast about whatever strikes their fancy, which generally are things and issues inside Atlanta's perimeter.
Hosts: Amber Rhea, Rusty Tanton
Channel: Society & Culture » Personal Journals
May contain content only suitable for adults
Download
Show notes
We start off by reading several listener comments we received on recent podcasts about sex clubs, which have been attracting many new listeners. One couple listening propositioned us, which was very flattering.
Then we move on to the next order of business. We took a road trip about a week ago, stopping through Augusta, Ga., Columbia, S.C., and several small towns. Amber had never seen any hotel porn, so when we were in Columbia we decided to pay for a couple of movies: Screw My Wife Please 50: And Make It an Orgy! and 3 Blowin' Me. Reviews within.
Also included: a PSA for 2007 International Day to End Violence Against Sex Workers.
Length: 34:12 minutes
File size: 23.5 MB
We love voicemail! Call us at 678.389.9441. Add Amber as a Twitter friend here, and me here. E-mail us at info@gapodcastnetwork.com.