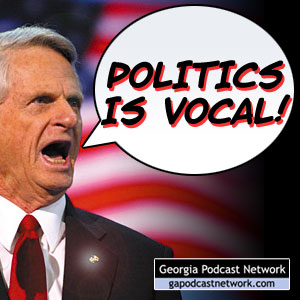 Politics is Vocal is the place to discuss local politics in your corner of Georgia. Is your area trying to incorporate? Fighting a big-box retailer? Saving park land? Saving the arts? Saving the whales? If it's local politics and you want to podcast about it, but aren't sure you can commit to a running show, Politics is Vocal lets you get your voice out there.
Channel: News & Politics
Show notes
Several people asked us where they could listen to this. By popular demand, here is the Reverend Jim Nelson's speech from the Democratic State Convention, held Sept. 16 in the Georgia International Convention Center. Thanks to Edward for getting us a copy of the convention footage.
Also, check out the new theme song Can I be a star? from Burnshee Thornside. It was provided by Magnatune.com, a service we wholeheartedly endorse (I'm not required to write this plug). They let podcasters use music from their artists for free, and artists receive more than 50 percent of the revenue.
Length: 5:36 minutes
File size: 5.1 MB