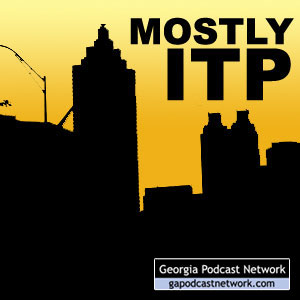 Amber and Rusty podcast about whatever strikes their fancy, which generally are things and issues inside Atlanta's perimeter.
Hosts: Amber Rhea, Rusty Tanton
Channel: Society & Culture » Personal Journals
May contain content only suitable for adults
Show notes
Last weekend, Amber, Joeventures, I and some other folks witnessed the implosion of the Wachovia building at 615 Peachtree Street. This podcast is a blow-by-blow account of our morning leading up to and including the implosion.
We took photos and posted them on Flickr, and Joeventures posted a video. You can also see older photos from before the building was gutted and imploded on my web site.
The new theme music you'll hear is "Flux" by Drop Trio, available only on Magnatune.
Length: 21:34 minutes
File size: 19.8 MB