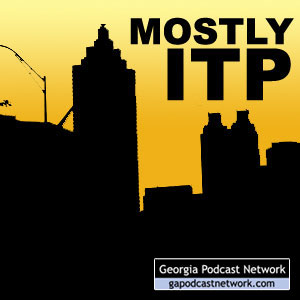 Amber and Rusty podcast about whatever strikes their fancy, which generally are things and issues inside Atlanta's perimeter.
Hosts: Amber Rhea, Rusty Tanton
Channel: Society & Culture » Personal Journals
May contain content only suitable for adults
Show notes
Amber, SpaceyG and I attended the Social Media Club meeting deep inside WSB headquarters last night. Contained in this podcast are our reactions recorded on our roof later in the evening after a few beers at Central City Tavern.
In attendance at the meeting to bore us with institutional history and tell us kids how we are "irresponsible," "unprofessional," and lacking "journalistic standards" were the AJC's Marlon Manuel and WSB's Steve Riley. Can't say that this podcast will do much to change that perception, but hey, fuck 'em.
Length: 33:08 minutes
File size: 30.3 MB