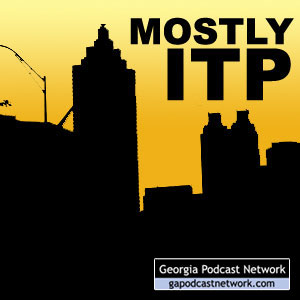 Amber and Rusty podcast about whatever strikes their fancy, which generally are things and issues inside Atlanta's perimeter.
Hosts: Amber Rhea, Rusty Tanton
Channel: Society & Culture » Personal Journals
May contain content only suitable for adults
Show notes
Have you ever heard of Peachtree Creek? If you live in Atlanta - especially if you didn't grow up here - your knowledge of Peachtree Creek might be limited to seeing a sign where it crosses under certain Atlanta roads.
David Kaufman wanted to find out more about the creek, so he explored the whole thing via canoe and wrote a book about it. In this interview, we talk about the book, what his "field research" was like, the buried Atlanta history he found along the way, and also the current issues with water management and conservation in Georgia.
Peachtree Creek: A Natural and Unnatural History of Atlanta's Watershed
Length: 23:01 minutes
File size: 15.8 MB