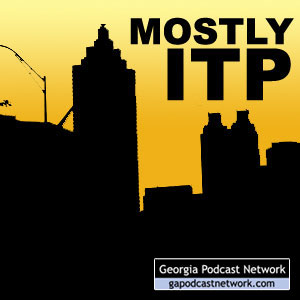 Amber and Rusty podcast about whatever strikes their fancy, which generally are things and issues inside Atlanta's perimeter.
Hosts: Amber Rhea, Rusty Tanton
Channel: Society & Culture » Personal Journals
May contain content only suitable for adults
Download
Show notes
This talkie covers:
Voicemails from Jen and Tony, covering topics such as:

Gwinnett County mooching off Atlanta
Drunk/not drunk
Lawyers

Voicemail from Ellie, responding to our first review of Swingtown; followed immediately by our updated thoughts on Swingtown, now that the series has (sadly, but not surprisingly) been taken off the air
Response to a listener who emailed with a question about Trapeze, and a brief tangent about the idea of a condom-mandatory sex club
Upcoming screening of The Three Faces of Eve at the Imperial Theatre in Augusta, and tour of the Miller Theatre (where the film premiered in 1957)
A few notes about our nascent house hunt
We love voicemail! Call us at 678.389.9441. Add Rusty as a Twitter friend here, and me here. E-mail us at info@gapodcastnetwork.com.