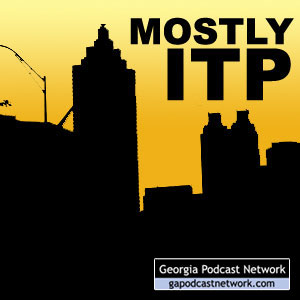 Amber and Rusty podcast about whatever strikes their fancy, which generally are things and issues inside Atlanta's perimeter.
Hosts: Amber Rhea, Rusty Tanton
Channel: Society & Culture » Personal Journals
May contain content only suitable for adults
Download
Show notes
This interview with Stephen Eley of Escape Pod, one of our awesome Georgia Podcast Network affiliates, is the second we conducted at SoCon07 (listen to the first with Karsh of BlackGayBlogger.com here). Stephen is that rare breed of podcaster who actually has found a way to pay contributors for their work. Listen to find out how he pulled that off.
Also included: the inevitable PodCamp Atlanta promo.
Length: 10:05 minutes
File size: 9.23 MB
P.S. - We love voicemail. You can leave us one by calling 678-389-9441, and we'll probably use it in a podcast.