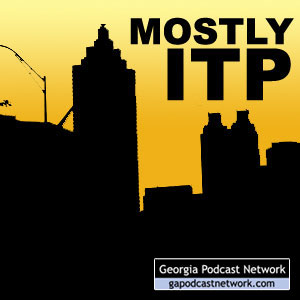 Amber and Rusty podcast about whatever strikes their fancy, which generally are things and issues inside Atlanta's perimeter.
Hosts: Amber Rhea, Rusty Tanton
Channel: Society & Culture » Personal Journals
May contain content only suitable for adults
Download
Show notes
Halfway into February, it's time for our first talkie of 2008. This screenshot should give you an idea of what to expect:
Here's a little more detail:
We play two voicemail messages from Nobilis. In the second one, he asks a question, and we answer.
Why the heck haven't you people called in your creepy bug/snake stories?
We went to Trapeze last night and I was in the poorly-conceived (or at least poorly-executed) "Strippers Ball," for a minute at least.
Talk of the Strippers Ball leads to a tangent about sex clubs in theory vs. practice, and annoying drunk people.
Can anyone give us a good, clear description of how delegates work in the Presidential election?
Thoughts on social media conferences in general, and a bit on PodCamp Nashville specifically
Sex 2.0 updates, and promo
Length: 29:48 minutes
File size: 20.5 MB
We love voicemail! Call us at 678.389.9441. Add me as a Twitter friend here, and Rusty here. E-mail us at info@gapodcastnetwork.com.