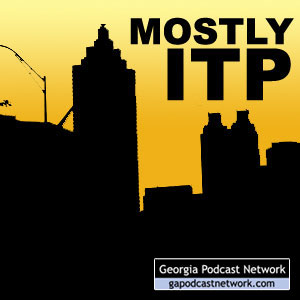 Amber and Rusty podcast about whatever strikes their fancy, which generally are things and issues inside Atlanta's perimeter.
Hosts: Amber Rhea, Rusty Tanton
Channel: Society & Culture » Personal Journals
May contain content only suitable for adults
Download
Show notes
This is our second live show (here's the first), and it was very exciting because we actually had several chat room participants, and a caller! Jen, use your $20 Inserection gift card wisely.
Things discussed:
Voicemails from Nobilis, Jen, and Tony. Thanks y'all, and keep 'em coming. Drunk-dialing is accepted and encouraged. My favorite was Tony's voicemail about Northside Drive, so maybe he should get the other Inserection gift card, and you two can buy something extra-special.
Our thoughts on CBS' new show, Swingtown. We are brimming with opinions about this show. We didn't get around to talking about the possible anachronisms, but perhaps next time. I'm guessing the chances are pretty good that there will be a next time, since we're already planning to watch at least the third episode.
I read a ridiculous ad from Xcitement Magazine, and rant semi-coherently about becoming discouraged about the adult industry ~8-10 years ago.
We love voicemail! Call us at 678.389.9441. Add Rusty as a Twitter friend here, and me here. E-mail us at info@gapodcastnetwork.com.