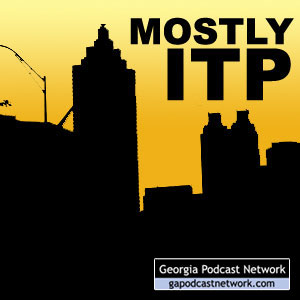 Amber and Rusty podcast about whatever strikes their fancy, which generally are things and issues inside Atlanta's perimeter.
Hosts: Amber Rhea, Rusty Tanton
Channel: Society & Culture » Personal Journals
May contain content only suitable for adults
Download
Show notes
In this talkie, Amber and I talk about lots of things that have been going on in our lives the past few weeks and take live questions via Twitter. It went sort of like this:
Twitter sucks us in, and now we can't escape. Questions from Grayson and Michael Bailey taken over Twitter are answered as we record.
We moved, which explains the even lower than usual sound quality of this episode. Here are the photos of our apartment we mentioned.
Experiences from PodCamp NYC. Amber has a question for John Havens, one of the organizers.
Amber is kicking around ideas for a new conference and would like to hear your suggestions.
We're heading to Chicago for BlogHer July 27 and 28.
Discussion of Atlanta's Web 2.0 community. We even said "Web 2.0" without a hint of irony.
Amber's blog is turning five! Party at Manuel's next Friday.
Length: 32:12 minutes
File size: 29.49 MB
We loves us some voicemail: 678.389.9441
Twitter Amber here, and me here.